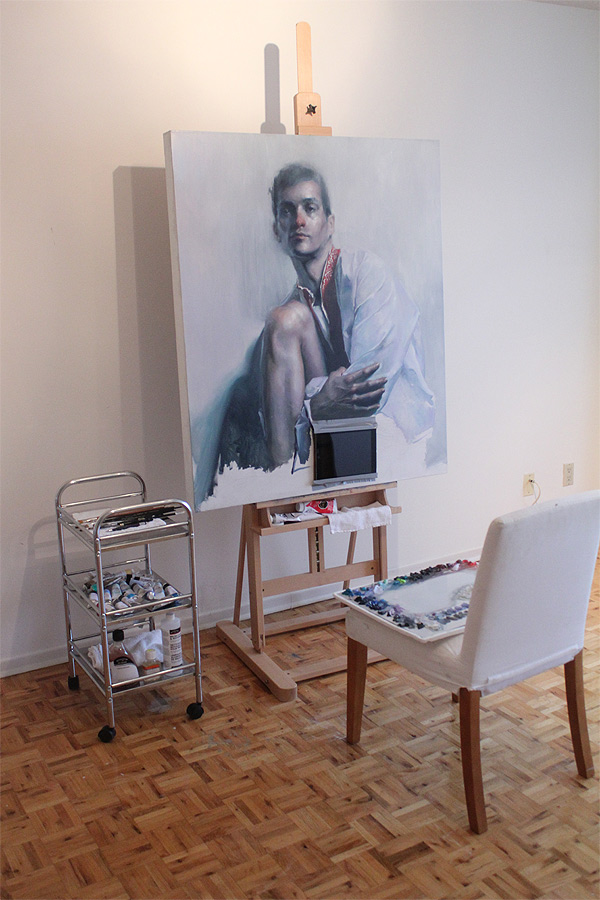 Just wanted to give a little tour on my materials that I use to paint (or what I find works for me)
*Liquin- Used to use mineral spirits, and linseed oil but I found how much linseed oil tends to turn all my colours yellow. Mineral spirits became too watered down many people asked if I painted with watercolours. Liquin and a bit of poppy seed oil makes a perfect mixture. (Almond oil is what I want to try in future)
*Brushes- Round Synthetic mongoose. Flat square brushes was my fav back in the time but no longer.
*Pallet- I buy a painting frame with glass for $8 then I put a white paper under the glass and use that to mix my paints. I used to own a little fridge where I would store my pallet over night (it never dries but your fridge will smell like oil)
*Reference photos- I tape an ipad to my painting and I can zoom in, play music, photoshop and skype while I paint. Best invention ever !
*Paints- I have upgraded to higher more expensive paints thanks to my gift cards (think of it as an investment). Old-Holland, Karma Pigments, Classico and many Winsor paints. My favourite colours at the moment is Kings Blue and Paynes Grey. I stopped using Titanium white, I now use Soft mixing white or Led White (If your doing portrait painting titanium white absorbs light like your dry white walls while led white or flake white reflects and makes it more alive). I actually don't own yellow or yellow ochre I just never needed for my paintings.
*Cleaner- Winsor & Newton Brush Cleaner & Restorer. None toxic. It can restore your dead brushes to life. I also wash my brushes with soap and hot water.
Hope this info helps. Let me know what tricks you use at your studio. I'm always ready to try something new. Plus check out my newer work on my site.
Website
,
Blog
,
Twitter
,
Tumblr
,
Facebook